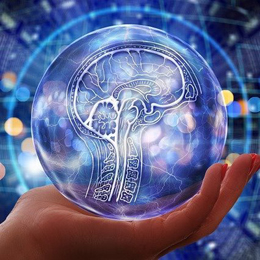 According to Dr. Bertalan Meskó, The Medical Futurist, the use of artificial intelligence is significantly accelerating the drug discovery and development process. Using predictive modeling algorithms, that allow computers to learn from performing repetitive tasks, AI systems create considerable time and cost savings. When developing biologic drugs, for example, they can help predict how large complex molecules will behave, cutting down on the need for testing and investment capital.
With the potential that lies in AI-aided drug design, Dr. Meskó foresees disruption in the pharmaceutical industry. He sees startups using AI for drug design becoming pharma companies themselves. Soon, he says, they'll be running their own clinical trials. This will allow startups to have more input in a new drug's fate and see it through from conception to fruition, rather than just lending its algorithm and having big pharma take over the rest of the process.
Dr. Bertalan Meskó – The Medical Futurist and the Director of The Medical Futurist Institute analyzing how science fiction technologies can become a reality in medicine and healthcare.
AI's Benefits In Drug Research And Development
As investors in pharmaceutical companies are well aware, the reward for developing a successful drug is very high. But so too is the rate of failure for companies trying to develop new drugs and/or therapies. This is why the introduction of AI into the equation is so exciting. Artificial intelligence can help in every stage of the research and development process, significantly reducing time and cost to take a drug to market.
An incredible amount of time and money goes into drug development. Bringing a new drug to market can cost pharmaceutical companies an average $2.6 billion and ten years of research and development, according to Taconic Biosciences' estimates. But using artificial intelligence systems in the process can help improve those odds, which is why this relatively virgin field has started to attract so much capital.
AI For Drug R&D Starting To Attract Serious Capital
AI's myriad of applications can bring speed and savings in this healthcare sector. So its no surprise that a 2019 report by Grand View Research forecasts that the market of artificial intelligence in global healthcare will reach 31 billion dollars by 2025. What may be a surprise to some, is that AI to streamline the drug making process is now starting to garner some of the most sizable sums compared to startups deploying AI in other healthcare segments.
Startups Have Taken The Lead In AI For Drug Development
Innovative young startups are utilizing AI systems to accelerate every stage of drug discovery and development, including target discovery, lead optimization, toxicity assessment and innovative trial design.
Companies like Atomwise, Turbine and Deep Genomics use artificial intelligence to identify the most suitable drugs for medical conditions. Compared to traditional methods, they are doing it way more efficiently, and in record time, while they actually manage to cut down on the costs. A prime example is Atomwise, a company that's providing its algorithm to perform drug research in developing a treatment for treating Ebola. The algorithm predicted that two compounds would prevent the Ebola virus from entering the cell. This analysis, which typically would have taken months or even years, was completed in days!
Big Pharma Playing Catch-Up With Early Adopters
Big pharma companies, compared to the smaller startups, have been slow to adopt digital health technology, particularly in their implementation of AI and machine learning in drug development. But this is changing. Most large pharmaceutical firms are starting to develop AI projects. They are partnering with smaller startups. And they are collaborating with big tech firms in order to leverage the latter's AI and cloud computing experience. Will this be enough for big pharma to hold their market share of the drug development industry? Or will the more agile startups capture a significant slice of the market? For investors in the pharmaceutical industry, this is an important question to keep in mind.
---
Profiting From AI's Disruptive Potential In Pharma
How do you profit from the adoption of artificial intelligence in drug development?
First and foremost is understanding. Whether you are looking for a career in the pharmaceutical industry, or would like to invest in pharma companies, its important that you educate yourself and broaden your knowledge in the area.
Learn More About Artificial Intelligence In Healthcare
Below are a number of free and paid online courses about AI in healthcare.
Once you've expanded your knowledge of AI in medicine, you'll be more adept at finding proactive companies using AI in drug development.
6 Private Startups Using AI To Perform Drug Research
Atomwise – a San Francisco-based company that develops artificial intelligence systems using powerful deep learning algorithms and supercomputers for drug discovery.
Deep Genomics – a Canadian-based therapeutics company using artificial intelligence to develop a universe of life-saving genetic therapies.
Model Medicines – a software company combining human expertise and machine learning to accelerate the creation of life-changing drugs at scale.
Turbine – a Hungary-based, simulation-first drug discovery company that leverages an advanced digital cell model, combined with cell behavior simulation technology and molecular biology, to understand complex tumor mechanisms and design drugs against them.
VeriSIM Life – a company utilizing AI enabled biosimulation models for the development of drugs for both humans and animals.
XtalPi Inc. – an American-Chinese biotech firm that focuses on AI-assisted drug discovery.
6 Larger Pharma Companies Adopting AI For Drug Development