James Altucher and Sam Parr both believe that cloud kitchens are a cool new trend with the potential to significantly disrupt the food service industry. Cloud kitchens – essentially turnkey facilities with low overhead and operating costs – allow restaurateurs and caterers to rent kitchen space, test different products and find market fit, all without the need to risk significant capital. So in a highly competitive industry where innovation and versatility are keys to survival, these "virtual restaurants" offer an appreciable advantage over their traditional, brick and mortar competitors.
James Altucher – angel investor, trader, serial entrepreneur, chess master, author, and podcaster.
Sam Parr – founder of The Hustle, one of America's fastest-growing media companies with a focus on millennials, tech, and culture.
What Are Cloud Kitchens?
Cloud kitchens are essentially restaurants with no physical storefront. Also known as a ghost kitchens, dark kitchens, shared kitchens, or virtual kitchens, these delivery-only restaurants operate out of licensed commercial kitchens and rely, predominately, on delivery service apps to distribute their food to the public.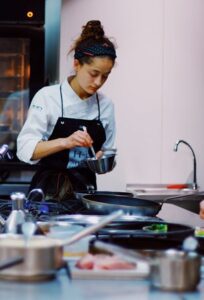 The birth of cloud kitchens, in large part, can be attributed to the meteoric rise of online food delivery platforms. Delivery apps have opened up new sales and delivery channels for restaurants and caterers. Traditionally, customers predominately ordered dine-in or take-out. Now, thanks to courier based delivery apps like Uber Eats, DoorDash, Grubhub and Deliveroo, its possible to serve customers without a storefront.
Cloud kitchens are generally located in distributed commercial kitchens, where "kitchen-as-a-service" companies offer licensed kitchen facilities that can be leased short-term or long-term. In one location there can be several exclusive kitchens, or even a single kitchen shared by several delivery-only restaurants. Their value proposition is a turnkey solution for anyone who wants to start and grow a virtual restaurant or catering business.
Cloud kitchen facilities disrupt the cost structure of traditional restaurants where real estate is expensive in high-traffic locations. Instead of central locations, cloud kitchens can be located in parts of the city where real estate prices are much more affordable. In addition, facilities don't have to have any seating space, all of which amounts to a huge savings. Following this business model, companies like CloudKitchens, Zuul Kitchen, Kitchen United, and others, are buying or leasing in convenient, cheap locations in cities and setting up distributed kitchen services.
Types Of Cloud Kitchens
Exclusive To Delivery Apps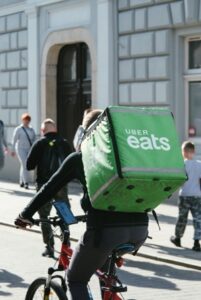 Delivery apps such as DoorDash and Deliveroo are starting to open their own, exclusive distributed "dark" kitchen services. By vertically integrating into the "kitchen-as-a-service" space, the delivery apps believe there are ways to cut costs and reach economies of scale. As a virtual restaurant operator, the advantage of doing something like this, is you get a premium spot because they want you to succeed. The delivery apps want you to be successful so you, in turn, can drive them much more value. The disadvantage of operating with these types of cloud kitchens, is they are super exclusive to their own delivery apps. The fact is, you'll be missing out on a big chunk of pie. You're only servicing the people that use DoorDash or Deliveroo. You're missing out on people who use Uber Eats or SkipTheDishes or any of the other food delivery apps out there.
Non-Exclusive
Non-exclusive distributed kitchen services include the likes of CloudKitchens and Kitchen United, as well as smaller players like London-based Karma Kitchen. These places operate as licensed commercial ghost kitchens where you can lease your own shared or private space. In turn, you can partner up with any of the food delivery apps. Its your choice. And while you have more flexibility and you're exposed to a broader range of people and customers, you don't get any special treatment or discounted rates from the delivery apps, because you're not exclusive with them.
Mobile Cloud Kitchens
A third type of cloud kitchen is the mobile cloud kitchen. These are fully equipped food trucks that go to high traffic areas and events. Renting such a kitchen can be advantageous for established cloud kitchen operators who want to expand their reach during seasonal traffic or special events, without locking into a long-term lease. The downside is space, which limits the variety of menu items operators can sell.
Advantages Of Cloud Kitchens
Lower Capital Costs
One of the biggest advantages of cloud kitchens is the lower upfront capital costs. Startup investment for a delivery-only restaurant is significantly less than for a full scale brick and mortar store. You don't need to purchase or lease kitchen equipment since its provided in your rent or lease with the distributed commercial kitchen. You don't need to worry about capital expenditures for a dining area or the extra space required for dining. And since cloud kitchens aren't reliant on premium locations, savings from cheaper real estate are passed down to the operators as well.
Lower Operating Costs
Lower operating costs is another major advantage of cloud kitchens. An operator that only requires kitchen facilities for short intervals of the day or week, for example, can avoid paying for unnecessary time on their lease. Expenses like going through all the permitting and business licensing, can also be avoided. Plus, a shared space allows certain economies of scale for things like administrative costs, utilities, etc. Another operating expense that is dramatically reduced is labor. Virtual restaurants don't require front of the house staff. This means that far fewer employees are required for a cloud kitchen that's doing an equivalent amount of sales as a traditional restaurant operating in the same space.
Turnkey Solution Allows Operators To Focus On Their Craft
Since the bulk of logistics and fulfillment is handled by the "kitchen-as-a-service" company and the delivery apps, virtual restaurant operators have much more time to focus on their craft. They don't need to worry about many of the back-end kitchen administration because the distributed kitchen service takes care of that for them. And they don't need to worry about logistics and customer service because this is handled by the food delivery apps. Instead, operators have much more time to focus on preparing excellent quality food and promoting their brand.
Build Multiple Concepts Out Of One Kitchen
Cloud kitchens allow operators to prepare multiple concepts and capture more delivery orders from a single kitchen. Essentially, each brand is cuisine specific and positioned in a way that it caters to different customer needs. This results in a larger customer base and increased customer frequency due to reduced menu fatigue.
Lets Startups Test And Pivot
Thanks to low capital costs and operating costs, and the flexibility of not being locked into a contract, operators can unleash their creativity without losing their shirt. One can test different concepts, see whether people like what's being offered, pivot when something doesn't work, and quickly discover what does. In addition, one can use data and information provided by delivery apps to zero in on regional or seasonal trends.
Increases An Established Restaurants Delivery Radius
Cloud kitchens provide opportunity for established restaurants (including brick and mortar restaurants) to expand their delivery radius. Many restaurants with a popular brand name would love to expand their delivery market size. Problem is, there is a limited time food should remain in transit. The solution to this is cloud kitchens. Thanks to turnkey virtual kitchens with low CapEx and OpEx, established restaurants can effectively expand their delivery radius and leverage their brand without overextending themselves and risking reputation, precious time and capital.
Disadvantages Of Cloud Kitchens
Reduced Visibility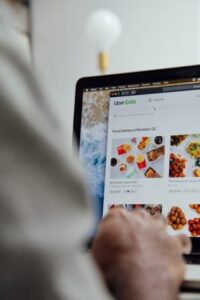 Since delivery-only restaurants have limited interaction with customers, cloud kitchens might find it difficult to differentiate their brand at first. Reaching out to online customers and gaining their trust and loyalty is a challenge, particularly with older generations. Without a storefront, virtual restaurants lose the ability to attract new customers via walk-in or drive-by traffic. This means cloud kitchens need to think outside the box and adopt innovative marketing strategies in order to win over and retain a dedicated customer base.
Cloud Kitchens Have Little Leverage
Virtual restaurants have limited leverage with their cloud kitchen provider, as well as with the delivery apps. In other words, if either party decides to raise rates or give preferential treatment to the competitors, the virtual restaurant is essentially at their mercy. So rather relying solely on this model, it should be treated as a tool to prove a concept and build a brand, before diversifying into other points of distribution. Perhaps this means moving out and renting a brick and mortar restaurant, or buying a food truck, or launching a restaurant website or app in order to bypass the third-party food delivery apps.
Cloud Kitchens Don't Own Their Own Customers
Cloud kitchens that rely solely on food delivery apps, don't actually own their own customers. The delivery apps own the customer information. And since the key to success in the food service industry is getting and retaining customer loyalty, it is very important that restaurants build their own customer profile – something lacking in the cloud kitchen business model. So once again, its recommended that virtual restaurants leverage off of this model, then build their own channels to collect customer information, thereby bypassing the third-party delivery apps.
Cloud Kitchens Attracting Serious Investment Dollars
As delivery's share of restaurants sales continues to increase, cloud kitchens have began to attract serious investment dollars. Saudi Arabia's sovereign-wealth fund, for example, has pumped $400 million into Travis Kalanick's new company City Storage Systems (parent company of CloudKitchens), while Google Ventures has invested in Kitchens United. Amazon is also getting into the space. Why Amazon? Because not only are cloud kitchens disrupting traditional restaurants, but they are also taking business away from grocery stores. Prepared meals delivered to your own home is a direct substitute for meals prepared at home. And Amazon, who owns Whole Foods, knows this. So its important for them to grab a share of this space, or risk falling behind.
Cloud Kitchens – Competition Is Heating Up
Thanks to venture capital, competition in the cloud kitchen and delivery space is heating up. And its only beginning. There will be a lot of mergers, acquisitions, and consolidations. Take for example DoorDash, which opened its own cloud kitchen in Silicon Valley. Its a food delivery app getting into cloud kitchens. And the opposite can also happen. Once, for example, a cloud kitchen company gets big enough and has enough locations, what prevents them from launching their own delivery app for its clients? Considering the huge margins food delivery apps are currently taking from restaurateurs (roughly 30% of an order's value), its quite probable that a "kitchen-as-a-service" company will try to disrupt the delivery app market. Either way, there's a good chance we'll see increased crossover competition in both directions.
Ramifications For Brick-And-Mortar Restaurants
And what does the trend in cloud kitchens mean for traditional restaurants? As online deliveries become the norm, some property experts believe this will reduce the number of bricks-and-mortar restaurants, subsequently increasing pressure on prime commercial property. The business case of having a big clumpy restaurant doesn't exist anymore. The trend towards delivery, seems to be here to stay.
---
Investing In The Emergence Of Cloud Kitchens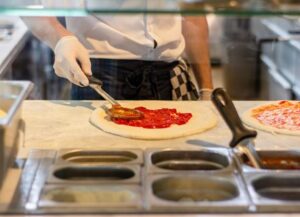 Even though the concept of cloud kitchens makes a lot of sense, and there's ongoing growth in food delivery, investors need to take a cautious approach when investing in the space. Problem is, there's really no unfair advantage. Like ridesharing apps (a disruptive innovation in the transportation industry), there really isn't anything that can be protected. There's nothing unique. Competitors can do exactly the same thing since the business model is difficult to appreciably differentiate in anyway. All that restaurateurs and caterers really want is turnkey kitchen space for the cheapest price. So many cloud kitchens can be expected to pop up around the the world, and many can be expected to fail. With no competitive advantage, apart from first-mover advantage, the strategy is to throw loads of venture capital into a project and try and grow it to scale faster than the competitors. Furthermore, similar to WeWork, all the startups in the cloud kitchens space are receiving venture capital even though they are basically in the real estate market. Overenthusiastic investors, inevitably, will start to value such real estate startups like tech startups. And we all know how this ends.
Then again, the size of the cloud kitchen market is going to grow significantly. Pick the right cloud kitchen company that scales (or is acquired by its competitor), and you should see appreciable gains. Which companies? Look for companies with first-mover advantage in the space (food delivery apps and/or ghost kitchen chains), and for companies exploring innovative technologies (like robotics and AI), in order to attain a competitive advantage in the space.
Below are 6 companies with the potential to profit from the growing trend in cloud kitchens…
Delivery Hero – an online food delivery service operating in Europe, Asia, Latin America and the Middle East, that is building their own cloud kitchen facilities, Favourites.

Kroger – a US grocery chain that has partnered with delivery-only kitchen ClusterTruck.

Just Eat Takeaway – an Anglo-Dutch food ordering and delivery platform that has recently acquired American delivery service Grubhub.