Large consumer packaged goods companies are under assault. Thanks to a combination of factors, small and midsize companies are growing sales and gaining market share in their respective categories, while large companies are finding it harder and harder to remain competitive in the changing landscape.
This was a February 22, 2019 headline article on CNBC…
Warren Buffett's Berkshire Hathaway loses $4.3 billion in a single day after Kraft Heinz revealed a string of disappointing news. Stock of the packaged food giant, whose products include Heinz Tomato Ketchup and Kraft Macaroni & Cheese, plunged more than 27 percent on Friday.
Consumer goods giants no longer have the upper hand when it comes to winning today's consumers. Size used to be one of the most important factors of success. Not anymore.
Warren Buffet, in a May 2018 interview with CNBC's Becky Quick, attributed this trend in the Consumer Packaged Goods industry to two reasons.
People today are a little more willing to experiment with different diets (or foods) than before. The brand loyalty factor isn't as strong today as in the past.
In the struggle between the retailer and the brands, the big retailers (Costco, Walmart, Trader Joe's, etc.) have gained a more favorable foothold when negotiating with Consumer Packaged Goods companies.
Becky Quick added that people were possibly looking for healthier diets. "They won't eat things that are packaged. They think that's bad for them."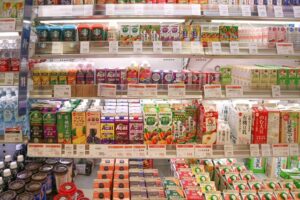 Perhaps the biggest factor, one they both missed, is the role technology has played in leveling the playing field between small Consumer Packaged Goods companies and the major brands. E-commerce has leveled the playing field, allowing smaller brands to reach consumers in unprecedented ways. The ability to sell online through channels like Amazon, reduces barriers to entry and allows smaller brands to reach consumers without the need to fight for limited shelf space or make large investments on brand. With this leveled playing field, margins for larger companies like Kraft Heinz and Anheuser-Busch InBev are shrinking. They no longer have that intangible brand power that they used to.
Warren Buffett points out in the interview, big CPG companies can still be very good businesses. But the key, is having a brand that is strong enough that the retailer has to carry it. Buffett explains, "if you take Heinz Ketchup, it's very, very, very hard to take share away from Heinz Ketchup. It's hard to take share away from Philadelphia Cream Cheese".  He continues, "but I can name some other products, which I won't, where its easier to take share away".
So how do large Consumer Packaged Goods Companies maintain market share despite the trend towards fiercer competition from the little guy? They go shopping for promising new brands.
Major CPG Companies Acquiring Upstart Brands
The rise of direct-to-consumer brands that have been stealing market share away from traditional market leaders, has spurred major CPG players into a shopping spree. They are looking to acquire fast-growing online brands that consumers see as having a more authentic story, or healthier, fresher and more environmentally conscious offerings.
Just a few examples of this include…
Unilever buying Dollar Shave Club
Kellogg buying protein bar RXBAR
Campbell Soup acquiring Pacific Foods
Lactalis acquiring Siggi's (maker of Icelandic style skyr yogurts)
And due to the disruptive trend in the the Consumer Packaged Goods industry, with the big brands trying to maintain market share and stay relevant, M&A activity doesn't seem to be going away anytime soon.
---
So where does one look to profit from this trend in the Consumer Packaged Goods (CPG) industry? We believe you can profit from this trend in a number of different ways.
Up-And-Coming CPG Startups
Thanks to a relatively new investment tool, equity crowdfunding, investors have the opportunity to get in at the ground floor of promising Consumer Packaged Goods startups. While this can be very risky (only a fraction of startups ever reach profitability), pick the right one and you can see gains that eclipse those of larger publicly traded companies.
In general, Consumer Packaged Goods startups are well represented on the two big equity crowdfunding platforms, StartEngine and Wefunder.
Publicly Traded Consumer Goods Companies
We like 5 companies in the Consumer Goods sector. The first 2 are GOATs (greatest of all time). In accordance with Warren Buffett's philosophy, they both possess strong brand loyalty, which makes it very hard for up-and-comers to take market share away from them. The other 3 are not as big as the former, but are reasonably priced due to varying factors – one is unsexy, one is unloved (shunned), and the last is simply unknown in larger American, European and Asian markets.