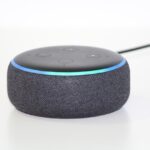 Dan Granger, an expert in digital performance marketing, believes that smart speaker flash briefings are the next big thing in media. He says its an important trend to watch. And coming from a pioneer in podcast advertising, everyone should take note. Dan sees striking similarities between flash briefings and the early days of podcasting. He contends that while flash briefings are nowhere near where podcasts are today, they're definitely moving in the right direction. He and his ad agency Oxford Road, therefore, are working really hard to stay at the forefront of the budding trend.
Dan Granger – CEO of LA-based ad agency Oxford Road, Dan is a pioneer in digital performance advertising and podcasting media. (audio clip compliments of The James Altucher Show)
What Is A Flash Briefing?
A flash briefing is a short-form media broadcast from a smart speaker at the listenership's request. Essentially, its a new way for brands to deliver timely or relevant content to you – their audience. For example, when you say "hey Alexa, play the news," she has defaults that she'll play for you. She'll play flash briefings distilled into short segments from your preferred news sources (from networks like Bloomberg, Reuters and NPR, and also from smaller independent sources). So instead of an hour worth of news, you can program these smart speakers so everyday you get your own personalized sequence of up-to-date information in 10 or 15 minutes. In other words, when you're getting ready for work in the morning, you can get "This Day In History", a daily TechCrunch briefing, and an NFL game-day summary from ESPN, all with a simple voice command.
Tech Companies With Smart Speakers (And Voice Assistants)
Alibaba (Tmall Genie)
Amazon (Alexa)
Apple (Siri)
Baidu (Duxiaoxiao)
Microsoft (Cortana)
Samsung (Bixby)
Yandex (Alisa)
Flash Briefings – An Emerging Trend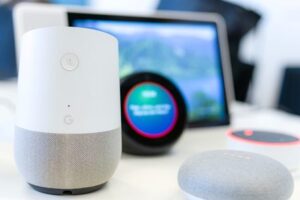 Dan Granger believes that short-form audio, in the way of flash briefings, is a big opportunity that's only beginning to emerge. Though flash briefings aren't yet robust from an adoption standpoint, he maintains that with a little tweaking, its just a matter of time. In his opinion, smart speaker companies still have some work to do to make it easier for users to subscribe, program and utilize the technology. Currently you have to push too many buttons and think about too many things. They're not necessarily user friendly. Nevertheless, you have to remember that early on, podcasts were also difficult to listen to. You had to be technically sophisticated just to access the content. Fast forward ten years, and listening to podcasts is a breeze. And just like in the early days of podcasting, there is already a small audience of engaged, tech savvy early adopters using flash briefings on their smart speakers. So even though, from an interface point of view, there are still a lot of things companies have to improve on, there's growing evidence that its just a matter of time until flash briefings catch on with the general populace and reach critical mass.
---
Profiting From The Growing Trend
There are several ways to profit from the growing popularity in smart speakers and flash briefings.
Invest In Smart Speaker Companies
The most obvious way to capitalize from this trend, is to invest in companies that develop smart speakers and the AI technology that their virtual voice assistants run on. The predominant players in this market are as follows…
Just keep in mind, these are giant tech companies in which smart speakers are just a segment of their overall business. So even if you pick the future front runner in the space, it still may not be enough to move the company's stock price significantly.
Become A Flash Briefing Content Provider
Perhaps the best way to profit from the trend, is to create relevant and timely content that can be delivered via this new form of digital media. Thanks to rapidly growing demand for quality content that is outstripping supply, its an opportunity that offers first-mover advantage. And although larger brands and businesses are starting to make their presence known in this space, smaller brands have yet to do so. So if you are a content provider in a particular niche, flash briefings provide a great avenue to find and grow a significant audience.
Brands That Will Benefit From Flash Briefings
Influencers that provide professional advice and/or daily tips to their audience.
Websites or blogs that are updated frequently with helpful information, answering popular search queries.
Brands that regularly launch new products or services.
How To Create A Flash Briefing
Learn how to develop flash briefings from scratch with the following courses…